Belly Dancing Course – Weight Loss and Muscle Toning
Belly Dancing Course "Masterclass" system is very simple…
The entire program consists of over 50 videos with a total runtime of 8 hours, systematically teaching all major types of belly dance steps and combinations that leaves nothing to the imagination. It's the most jam-packed and intensive belly dancing course you'll ever experience.
+ 50 videos with a total running time of 8 hours of in-depth lessons
+ Step-by-step belly dance instruction program presented in an easy-to-follow format
+ 3 different teachers covering 5 major styles of belly dancing.
+ Suitable for BOTH beginners and seasoned dancers.
+ Learn over 40 isolated body movements, each visually demonstrated and verbally described, with on-screen visual aids.
+ All basic moves are covered in the first 2 hours so you will be up and running quickly.
+ Clearly see all movements from multiple viewing angles, including full-body & up-close views. Then perform fluid combinations of the moves you've learned!
Introducing… Belly Dancing Course "The Ultimate Masterclass"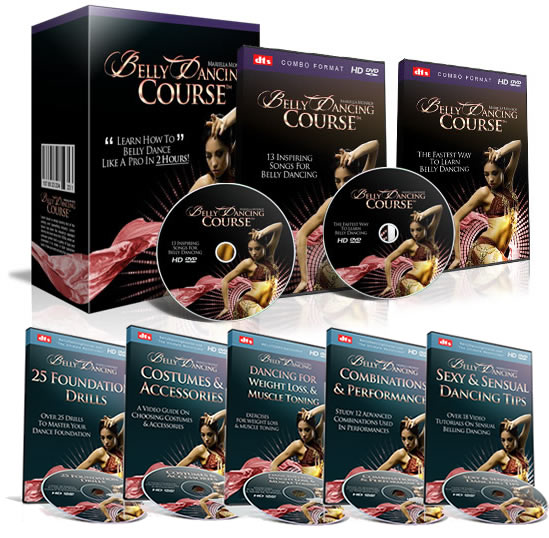 3 separate expert teachers means you get diversity in teaching styles and a better learning experience because of specialization.
The course covers 5 distinct dance styles so you'll get to discover the different styles of belly dancing.
Over 8 hours of videos in 50+ video chapters. It includes basic moves all the way up to complex combinations, warmups, cooldowns plus music!

So What Makes This The #1 Belly Dancing Course?
1. Over 50 Videos (8 Hours) of Dancing Moves, Combinations, Layers & Techniques
Learn to love and move your body with grace & confidence with over 50 videos spanning over 8 hours of step-by-step instructions. The first 2 hours covers basic moves and rest covers advanced combinations, expert techniques and little-know tips to empower you to move and dance like a professional!
2. Fun, Engaging, Step By Step and Easy To Follow Video Instructions
Each segment breaks down, explains and drills the basic bellydancing moves and an easy-to-grasp step sequence that shows how to use it. The movement starts slowly, then progresses to full speed. It covers the mechanics of basic movements, demonstrates where those fundamentals will take you with variations and layers, and has a short routine at the beginning of the video.
3. Different Teachers – 5 Dance Styles
With 3 different teachers, you'll get to experience various teaching styles and level of difficulty. This course covers 5 different dances styles to make this the most complete course on the market:
American Cabaret
Egyptian Oriental
U.S. Tribal
Gothic & Tribal Fusion
Turkish Didem
4. Excellent For Beginners & Advanced Dancers!
The entire course is perfect for beginners or more seasoned dancers looking for a review of technique. Every segment and move is broken down into parts with advanced combination movement at the end of each video for seasoned dancers.
5. Innovative Fast-Track Method & Award Winning Production
This high-caliber package has earned accolades for Mariella's clear and supportive teaching style, her attention to solid technique, as well as for its exceptional production quality. With the innovative fast-track method of teaching beginners and the supportive, nurturing style, this takes you from basic to advanced combinations in the very first hour.
6. Includes A Great Selection Of Belly Dance Music & Rhythms
Get over 1 hour of amazing audio featuring beautiful music of widely acclaimed global recording artists. This is the perfect accompaniment to the video training!
7. Instant Access To Videos
You'll get INSTANT lifetime access to all the videos in our members area with one-on-one video chat/email support with Mariella. Why waste time waiting for the mail to arrive when you can get started within minutes! You also have the option to get all the videos on DVDs if you desire.
Take a closer look at what you'll learn in this high-caliber multimedia package:
All Moves Of 6 Different Dance Styles
Selection Of Music and Costumes
Rhythmic Hip and Rotations
Shimmy, Shiver and Twists
Camel Rocks, Forward and Back Steps
Figure Eights and Pelvic Tilts
Udulations & Torso Rotation
Bellydance Percussive Hipwork
Combining Footwork with Hipwork
Upper Body Moves and Accents
Combining Fluid Hipwork and Upper Body Accents
Easy Hipwork Combinations
Challenging Hipwork Combinations
Challenging Fluid Movements
& So Much More!

Belly Dancing Course – Weight Loss and Muscle Toning